Fall/Winter Essentials with Red Wing Shoes
Fall/Winter Essentials with Red Wing Shoes
Photography by Tom Buck
In collaboration with Red Wing
What I'm Wearing 
Black Boots – Red Wing* (click here)
Grey Overcoat – H&M Studio* (click here)
Blue Velvet Hoodie – The Incorporated* (click here)
Distressed Back Denim – Represent* (click here)
Fall/Winter is probably my favourite time of the year – I love dressing for the cold weather. It means layering up and getting all of my outerwear out from the depths of my wardrobe. Each year there's new trends and styles but I think fall/winter is the most timeless season and every piece you buy is an investment for the years to come. I've collaborated with Red Wing Shoes to give you my list of winter essentials, if you don't have some of these pieces I'd definitely recommend investing asap.
Footwear
I think I have a problem with footwear, an obsession almost. I'm always searching for the perfect boot, the perfect sneaker – there are so many good options out there for us guys right now. Finding that winter boot that you've always been looking for can be a daunting task but once you've found it, you'll be set for life.
I'm thrilled to be working with Red Wing Shoes for this post, their boots are awesome – they're a heritage brand from Minnesota who started by making (and still do make) footwear for a purpose, most commonly known as a work boot. I don't really see Red Wing shoes as a work boot, the thick light crepe sole and the attention to detail puts them in their own niche in the boot world. I'm wearing my favourite style which is the classic 6-inch moc in all black except I swapped the laces out for more of a contrasting look. What do you think of the boot?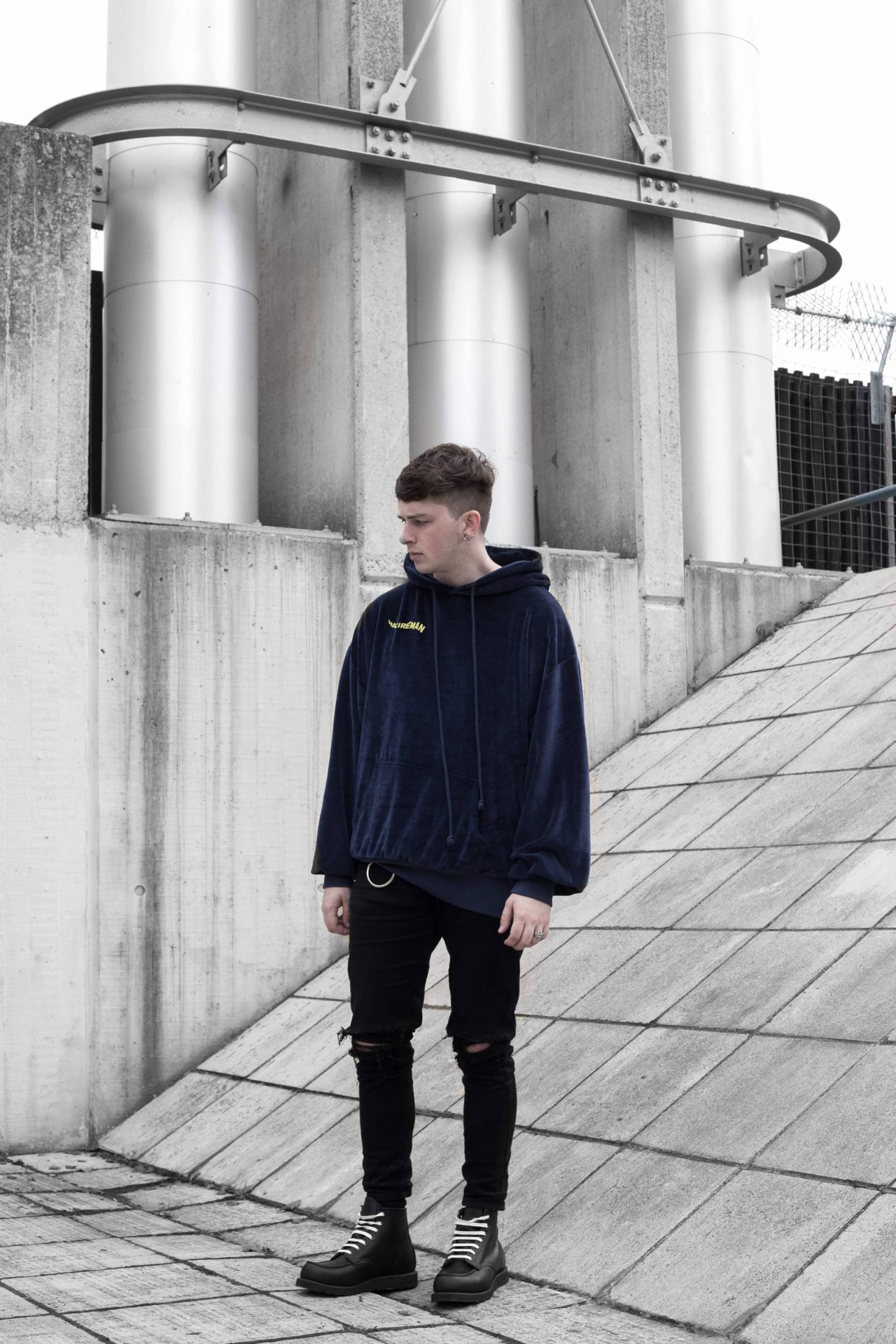 Big Bad Outerwear
The 'Pimp' coat as I like to call it, I'm not sure if this H&M Studio coat is just way too big for me or it's intended to be that size but either way – I'm in love.  Huge overcoats that almost touch the floor are incredible and this H&M one gives me that kind of vibe. I definitely think an overcoat is a brilliant investment, no matter what size, but lets face it-  the bigger the better – especially this season. They're great for finishing off a look and they're practical – here in London it can get really cold so there's nothing better than wrapping yourself up nice and warm.  I feel like the big bad outerwear can also elevate your confidence, when your coat starts flapping in the wind when you walk it definitely pulls you up a notch or two. In terms of outerwear for this seasons I'd love to play around with colours and textures a little bit more, maybe in the next outfit post I'll be wearing a floor length green velvet coat? who knows….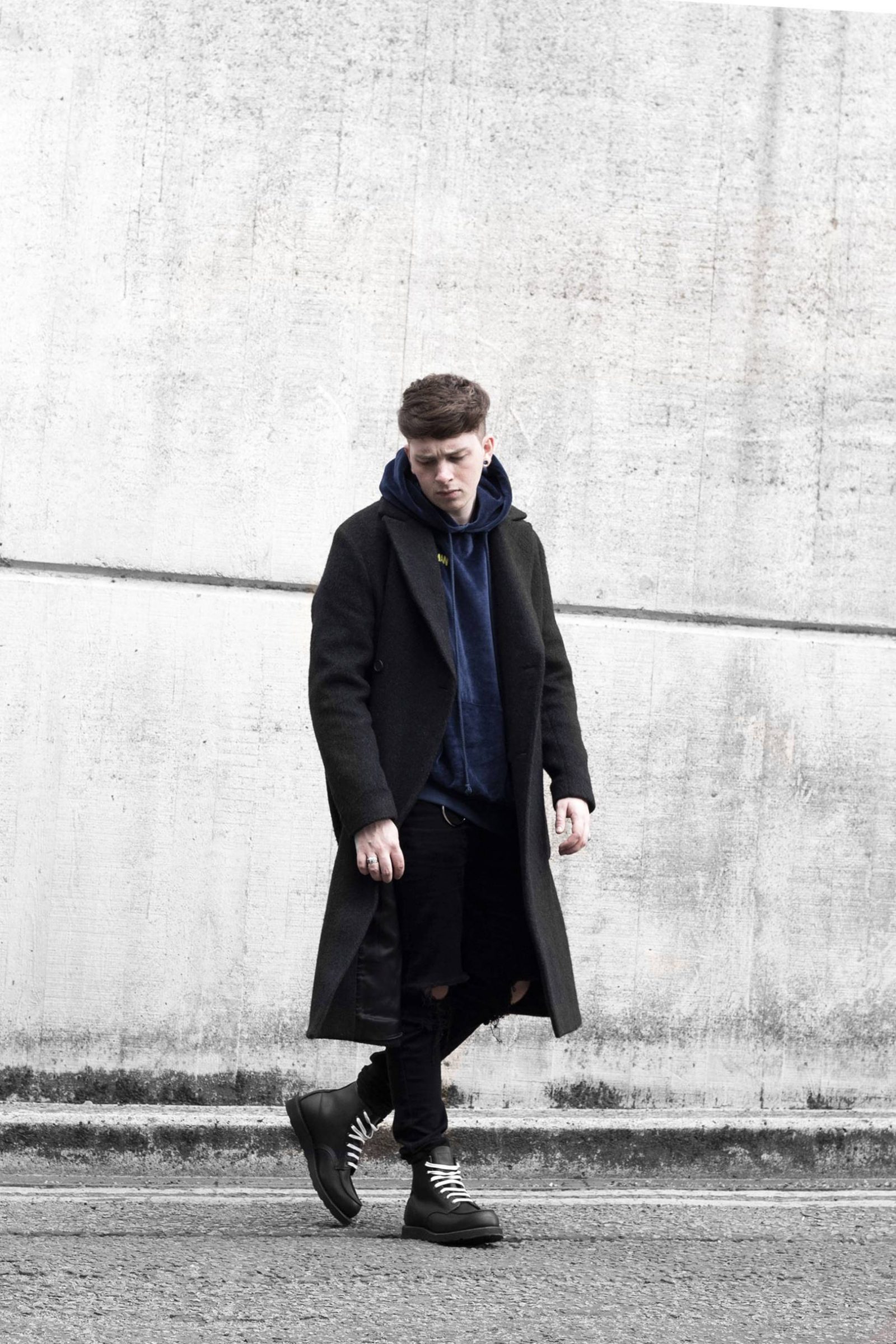 Layered Texture
Speaking of velvet, there are so many awesome textures popping up for this season. Whether it's the old classics like shearling or leather – to the un conventional materials like latex and velour. Menswear has seen a huge change in the past 5/6 years, one being that the clothing on offer to us is so much more interesting than what it used to be. New cuts, new styles, new silhouettes – so for Winter, under that big bad outerwear you can have some fun.
You could try layering a shearling hoodie underneath or even some velvet like me, deep blues, reds and greens are all perfect tones for the velvet hoodie ensemble. Knitwear, Roll necks, mock necks, turtle necks and hoodies are all perfect for wearing underneath – so layer it up and have some fun.
Unique Denim
Denim is always essential and unique denim is a thing i've spoken about over on  my YouTube channel before. Denim that's personal, ripped in your own way, embroidered in your own way – painted on in your own way just anything to make it your own. My denim is usually distressed, the distressing is then made bigger by me putting my foot through the shredded material – I just pretend that it's supposed to be that way. Unique denim is the way forward so make sure to put your own stamp on your denim so that everyone knows it's yours.
Do you have all of these essentials in your wardrobe? Is there any essentials you think I need to add to mine? I hope you liked this outfit post and I'd like to thank Red Wing Shoes for working with me on this post. As always thanks for stopping by.