Vintage Band T-Shirts – All You Need to Know
Vintage Band T-shirts – All You Need to Know
Photography by Tom Buck
What I'm Wearing
Metallica T-Shirt – RockRenewal(click here)
'Gallucks' for 10% off at RockRenewal
Ripped Knee Skinny Jeans – ASOS (click here)
Distressed Denim Jacket – Tourne de Transmission (click here)
Yeezy 350 Pirate black – Adidas (click here)
As you may have noticed in my recent youtube videos (like here) I seem to have developed a bit of an obsession for vintage band t-shirts. It's definitely not a new thing, I've always had a thing for band t-shirts – in fact when I was 16 I used to wear my 'Motley Crue' tee 24/7 because I was obsessed with the graphic. I actually ended cutting that 'Motley Crue' tee into a cage design, I have no idea why but if you fancy having a laugh – I did a blog post about it in 2011 and you can read it here haha. Below I'm talking about all things Band T-Shirt related, Why the Hype? Where can you find them? and Should you be wearing it?
I've also put together a little edit from places like ASOS that you can shop below.
Shop My Edit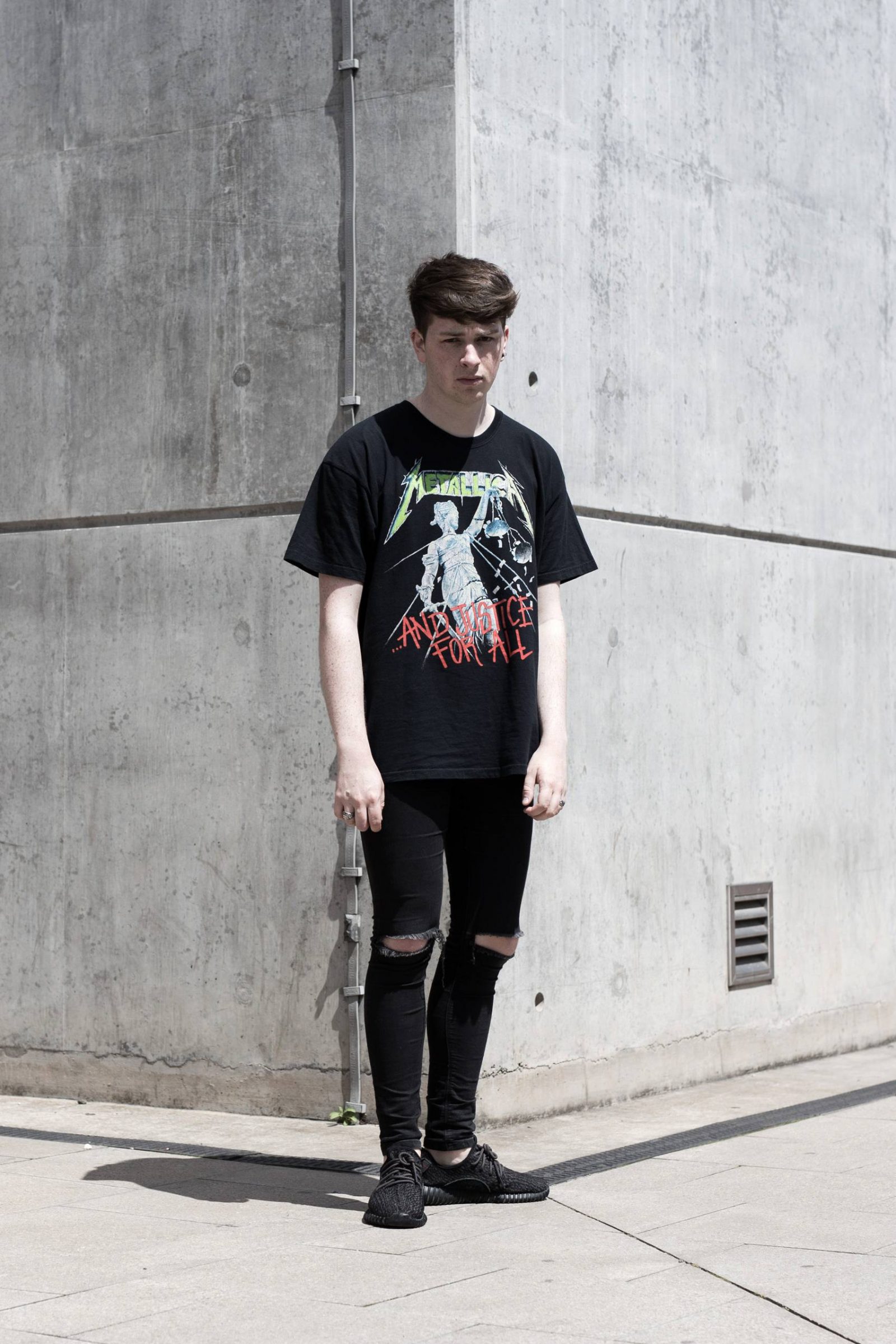 Why the Hype?
As of late I would definitely say my love for them has gone to another level. I think the rise in popularity has come from brands like Fear of God. FoG re-hash vintage tees and sell them at $600 a pop, they sell out instantly and have become grails within streetwear circles. Overall hype for band merch itself has been gone to the extreme with things like 'Yeezy' and 'Bieber' merch with designers having a huge input on what is being produced. Music and Fashion has always had a close relationship and the Band T-Shirt is the symbol of that union. It's all about attitude and if the actual T-Shirt itself has an incredible design then it's a win win for everyone.
Where to find them online?
I'm always on the look out for oversized vintage rock tees with contrasting graphics with interesting colours but vintage shopping isn't my favourite thing to do so I'm mostly looking online. You can get 'new vintage' band tee's from places like ASOS, Amazon, Ebay, Hot Topic etc. (you can shop these below) . These are usually printed on thin, tight cotton T-shirts and are generally not that great looking, bar a couple of exceptions from places like ASOS. The best though are the 100% vintage tees that look battered and old and come in huge sizes like XL. Whilst scoping out depop I found a great store and site called Rockrenewal
(they actually gave me a discount code to give to my readers after I bought a couple of tees – use 'gallucks' to get 10% off). Other tips for finding them that I found are
In real life you can try Vintage/Secondhand/Charity stores.
Instagram is a great place to find stores/brands, search using Hashtags.
Search for the specific band name on places like ASOS and Amazon.
Try keywords like 'Rock Tee' 'Band Tee' 'Band T-shirt' 'Merch'.
Try places like Depop and eBay.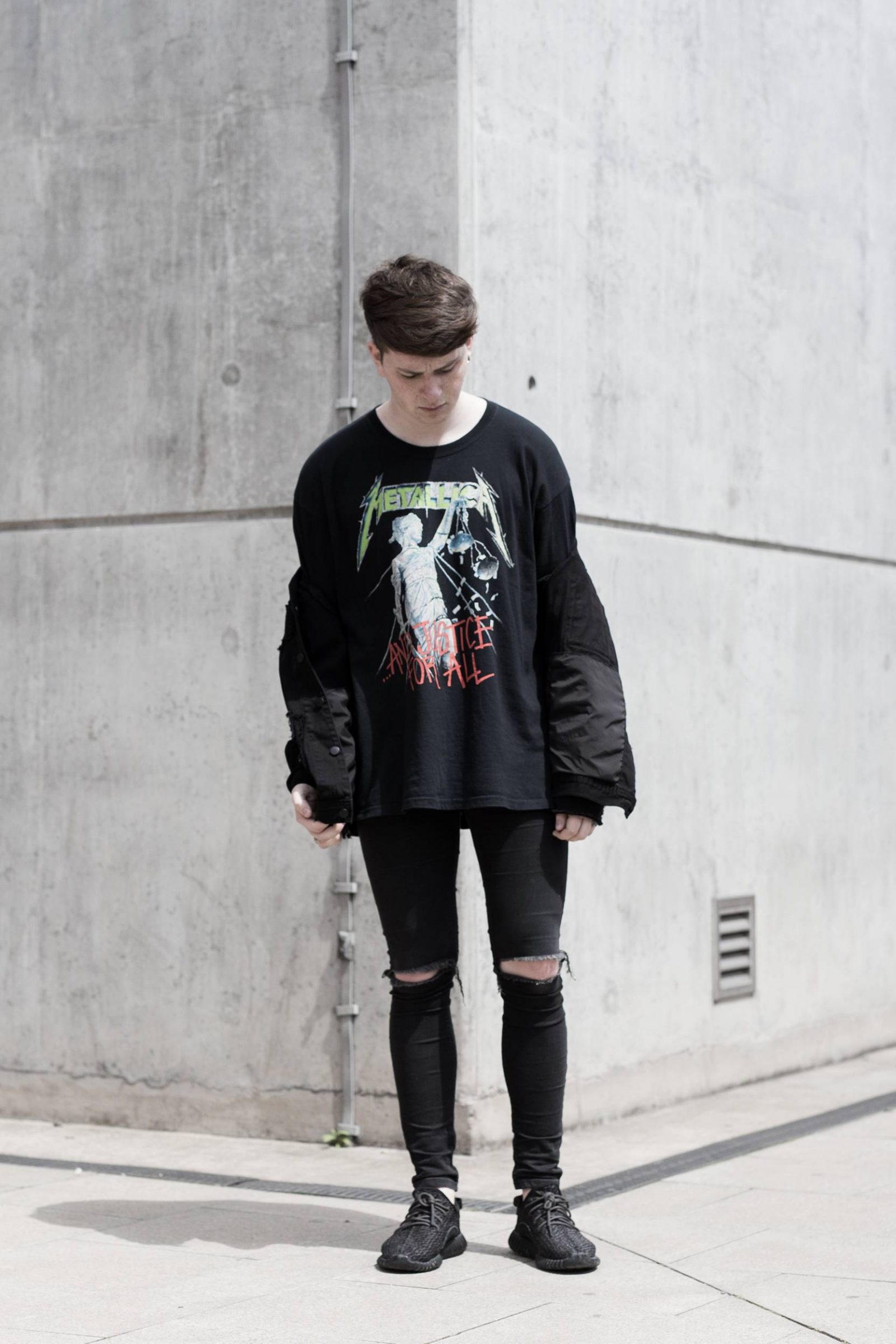 Should you really be wearing them?
The Metallica tee that I'm wearing in this post is my favourite at the moment – the nuclear green and blood red fonts just stand out to me. There's a big debate surrounding band t-shirts as to whether you should wear them if you don't actually like the band. There are two types of people really number 1. you love the band, you got the t-shirt and you wear it because you like the music. Number 2. You don't like the band that much, you thought the t-shirt looked cool, you wear it.
It really depends on the band but I'm going to be honest – I'm not a huge Metallica fan, I can't list 10 songs, I don't know all the lyrics. I just like how the t-shirt looks. I said in my YouTube video – if you want to spend your time getting angry at someone wearing a t-shirt then by all means go ahead. However I wouldn't want to waste my own time doing that. Yes it maybe annoying that I'm not Metallica's biggest fan it doesn't mean I hate them, if anything it's supporting the band.
Let's just glide past that awkward conversation of 'name 5 songs' ok? At the end of the day they're just clothes, you buy what you like because of how it looks and how it fits your body. I'm happy and proud to wear my band tees and it actually makes me listen to the bands music. It's great because you can research how and why  that design came in to existence, what tour it was from, different artists they used for the designs etc.
I hope this has given you a bit more information on vintage band t-shirts themselves, let me know if you have any in your collection or if you're planning on buying some yourself – thanks for stopping by!