9 Things To Do in Southern California
California has always been a place that I've dreamt about visiting – the never ending beaches, that care free attitude and Incredible weather is oh so appealing. If you follow me on Instagram or watch my YouTube channel then you'll know that I recently got the opportunity to go on a press trip to Southern California thanks to Visit California (here) and Air NewZealand (here). We visited quite a few areas across 5 days and got to experience some amazing hidden treasures. I've chosen 9 of my highlights from the adventure and want to share them with you incase you're heading to California yourself or maybe this post can inspire you to book a trip in the future? I definitely recommend it and I'm itching to go back.
1. Travel In Style
The flight itself is so important, before I get into the Californian activities I just wanted to touch on how we flew there and back to give you some travel inspiration. From London Heathrow to LAX it can be between 9/11 hours and if you're going to be sat down for that amount of time you want it to be an enjoyable experience. On our way to SoCal we flew Air NewZealands' (LON-LAX) premium economy in their Spaceseat, pictured below (From £759 here). The seat was incredible giving you so much more room than a regular economy seat, complimentary food and wine, in-seat power & USB connections and premium check-in. I slept so well on the flight there and the flight attendants were extremely attentive, I'm not a confident flyer myself so all these added luxuries definitely made me feel at ease during the flight. If your budget can allow then spending that little extra on a premium economy seat is definitely worth it, it makes the whole journey pleasurable and a more seamless experience.
Backpack – Represent (here)
A quick nod to the Air NewZealand colour palette (black and white) which fits in so well with my Instagram Feed #aesthetic haha.
On our way back to the UK we were lucky enough to be upgraded from our Premium Economy seats to Business Premier. I myself have never flown anything above economy before this trip so this was an awesome opportunity and I can't thank Air NewZealand enough for the experience. In Business Premier your seat can actually turn into a bed (with a memory foam mattress?!) meaning we all got several hours of comfortable sleep. When you board the aircraft you're greeted with champagne and an extraordinary in-flight menu, it just really was the best flight I've ever been on. To top it all off when you're flying Business with Air NewZealand or if you're a member of Star Alliance you can access the Star Alliance Lounge at LAX. The lounge features impressive services, complimentary food, drink and an outside terrace overlooking the airfield and the HollyWood Hills. An unforgettable experience and excellent service all round from Air NewZealand. The flights themselves were genuinely the best I've ever experienced and I would definitely recommend flying with Air NewZealand if you are considering a trip to California (or anywhere else in the world).
Ripped Denim – NDG (here)/ Y-3 Pure Boost Sneakers (here)

Backpack – Represent (here)
Star Alliance Lounge LAX
Ripped Denim – NDG (here)/ Y-3 Pure Boost Sneakers (here)/ Reiss Luggage (here)
2 Go on a Hike
On the first day in California we stayed at Laguna Beach, known for its beautiful weather, scenic coves and artistry we decided to explore the area the true Californian way. Hiking seems to be really popular over in Cali, I think because of their beautiful views, great weather and all round healthy lifestyles. La Vida Laguna (here) was the company who took us on a hike over the canyons of Laguna, our guide – Doug was extremely informative, giving us a bit of history and interesting facts about the areas we were walking through or looking over. Make sure you wear sun cream and wear light clothing though – I learnt the hard way and got sun burnt whilst drowning in my own sweat from wearing a couple of layers and having my suede backpack with me (what was I thinking?). Hiking is so much fun and you have to try it whilst you're out there.
3 Splashes – Surf and Sands Resort
During our time at Laguna beach we headed over to the Surf and Sands resort to visit their popular restaurant 'Splashes' (here). Our table was literally right on the beach with only a pane of glass separating us and the ocean. Hearing the waves whilst you dine is  so therapeutic and definitely something I could get used to. The menu was filled with fresh seafood and interesting cocktails. Again if you're in the area definitely book a table and enjoy the ocean view, sunshine and incredible food.
4 McConnells Fine Ice Cream
If you are in Santa Barbara then you HAVE to head to McConnells. They do incredible ice cream and also make milkshakes with it too, their selection is huge and their flavours are extremely varied. They offer multiple toppings and sauces all for a very reasonable price. You can check them out here.
5 Helicopter Ride over Santa Barbara
Whilst in Santa Barbara we went on a Helicopter ride over the coast of Santa Barbra with SB Heli Tours (here). If you want to add a bit of thrill/excitement to your trip you should definitely go on a ride, you get to see insane views of the bay area, take a nosy at everyones incredible houses and pools and possibly see Dolphins in the sea like we did! Like I said earlier I'm not a confident flyer and I was extremely nervous about the helicopter ride but this was an amazing experience that I couldn't let pass me by. I'm so happy that I just went for it, the pilot was extremely reassuring and made us all feel 100% safe, even when he took the back door off so we could get better views….
6 Brunch at Geoffreys in Malibu
On our way to Santa Barbara we stopped off at Geoffreys in Malibu for brunch (here). So 1. If you live in California and you've never been, I urge you to go because it's so good. 2. if you're visiting California then you HAVE to go here for brunch. Not only do you get breathtaking views of the coast whilst you dine there's also an incredible menu to choose from. I had the french toast with maple syrup, sausage, topped off with a bloody mary and it was all delicious.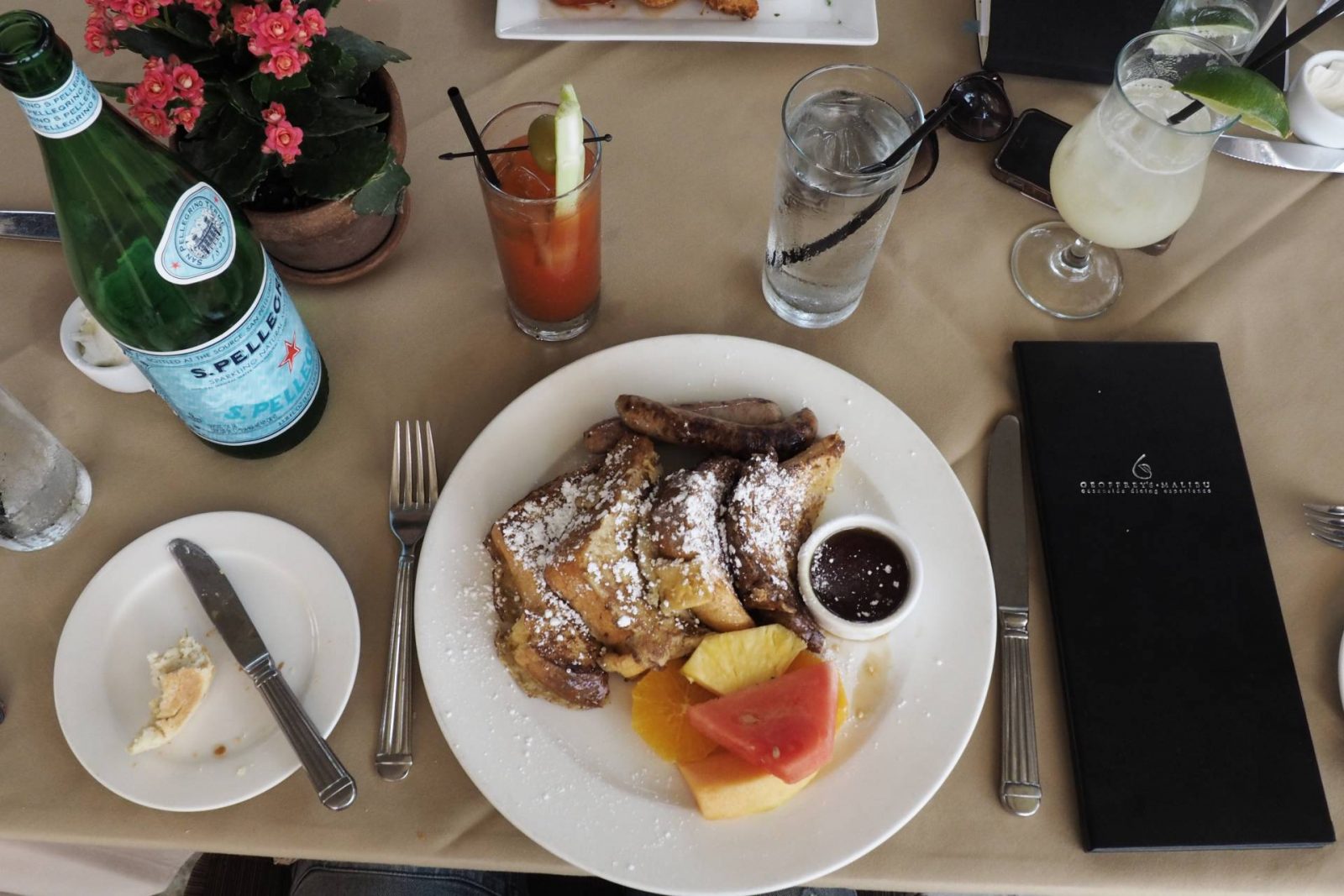 7 Pacific City at Huntington Beach
Huntington Beach was one of my favourite places that we visited and our hotel was right next to the brand new Pacific City. A new shopping and food hub with views of the oh so perfect beach, we headed to Ola Mexican Kitchen where I had their delicious tacos and a 'Costa Azul Margarita'. Definitely worth a stop off if you're in the Huntington beach area.
Nirvana t-shirt (here)/ Denim shorts (here)/ McQueen Sneakers (here)
8 Aebleskiver in Solvang
Solvang is surprisingly a Danish city residing just north of Santa Barbara offering up many traditionally 'Danish' things. Architecture, Museums, Chocolate and one of the most intriguing culinary delights – Aebleskiver. You can find them in 'The Solvang Restaurant', they're a 'pancake puff' sort of a cross between a pancake and a donut covered in warm jam and powdered sugar. If you're around then take a little trip to Solvang to try these little bits of heaven.
9 In-N-Out Burger
Instagram worthy fast food (here's my shot at it) that I've been dying to try for so long, starting out in California and now spreading along the Pacific coast and to surrounding states the fast food chain has developed a highly loyal customer base. It's classic diner like interior, simple menu and secret menus have earned the respect of many Californians. If you do get a chance to stop by, ask for your fries and burger 'Animal Style' you won't regret it, I promise.
So they were my 9 things to do in California – I hope you liked the post, another big thank you to Visit California (here) and Air NewZealand (here) for taking me along. Do let me know if you've done any of these things, if you now want to do them of if you're heading to California soon! Leave a comment below and we can chat about all things SoCal! Thank you for taking the time to read this post – it means a lot.